Refinish a sink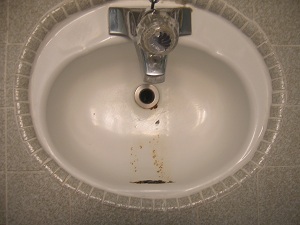 This is a sink that had a rust stain because the metal under the previous finish (I'm not sure if it was porcelain or enamel, but it doesn't matter) was exposed. Given the choice between replacing the sink or refinishing the sink, (also called reglazing), the customer chose to refinish. The fact is that many people don't know that it is possible to actually paint a sink. It's also true that one could do a whole bathroom refinish with this product, as it can be used on bathtubs and tile as well. The product is actually a special kind of epoxy paint for sinks (and tubs and tiles) called Homax - Tough As Tile Tub & Tile Epoxy Finish. You can follow a link towards the bottom of this page to purchase it.
To begin refinishing a sink like this (or a sink with no rust of course), first sand the rust stain (if there is one) with wet very fine grade metal oxide sand paper and remove the brown rusty wet residue with paper towels. Then, dissolve and use the cleaning powder that comes with the kit to completely clean the entire sink according to the directions (use the gloves provided). Then use the enclosed steel wool in the kit to completely rough up the entire surface that will be epoxyed, also according to the directions.
Very critical to this job is taping and hanging plastic. As shown, you should tape over the entire faucet fixture and hang plastic over the entire mirror behind it. If there is tile that you don't want to refinish around the sink, tape it off completely as shown. At this point it is a good idea to turn the faucet supply valves off underneath the sink so no one can accidentally turn it on. This sink epoxy product leaves a fine spray that will stick to anything forever so cover the floor and other fixtures completely. Remove all towels, nick-nacks etc. I put two pieces of tape down over the drain plug and then trimmed around them with my utility knife as shown.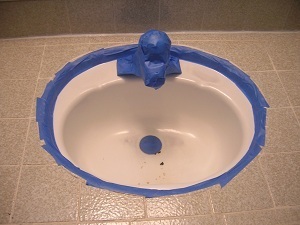 At this point I should tell you that I tried just covering the rusted area with epoxy and after a few months the rust came back a little, so I decided to use a rust converter product and then re-spray the area. This was a fairly simple task and it seems to have worked well so far.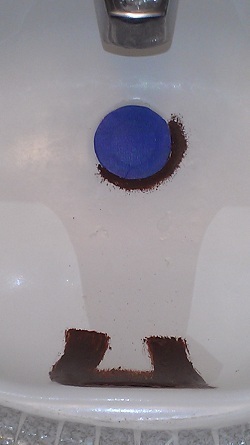 So the next step would be applying a rust converter product as shown, either brush on or spray, and letting it dry overnight before you spray the sink epoxy. A good idea is to tape two crossed pieces of tape over the sink so no one touches the wet paint, after this stage and also after the final spraying. You absolutely must wear an organic vapor mask; this stuff is obnoxiously stinky! (and also very bad for you to breathe.) Don't just open a window when you spray, make sure you set up a cross flow of air moving through your house, and run the bathroom fan if you have one. When spraying, I found that the best way to do it was a lot of light coats in order to avoid drips. They recommend 20 minutes or something between coats (check the directions.) If you spray this sink paint to much in one place it will drip, and the drips are impossible to get rid of once they are there. Don't take the tape off until the sink is dry (you'll mess it up.) Again, check the directions, but I believe you will have to wait 2-3 days before you can use your sink.
The refinished sink. The picture may not do it justice. It really was amazing how well it turned out. If rust still comes back, it's very easy to hit the spot with rust inhibiter and re-spray the area (it will blend perfectly because of the previous paint job.) Of course this isn't a problem at all with a sink with no rust!
Save some time and energy for your home repair by getting your hardware supplies online at Amazon!
I can recommend this product. Please help support this site by ordering it from Amazon.com within 24 hours using the link below. You can pick up some rust converter while you're at it by following the second link:
Homax 720771 32-Ounce Tub and Sink One-Part Spray-On Epoxy, White
Homax' description of their product: "Homax 720771 32 OZ Aerosol, White, Tough As Tile Tub & Tile, Epoxy Finish, Long Lasting Epoxy Paint, Withstands Hot Water, Affordable Restoration, Easy 3-Step Process, High Gloss Porcelain-Like Finish, Illustrated Step-By-Step Instructions Enclosed, Tough As Tile Provides A Hard, Protective Finish That Remains Beautiful For Years, Even On Surfaces Subject To Severe & Frequent Washing, Use On Bathtubs, Sinks, Ceramic Tile, Porcelain, Fiberglass & Showers"
Rust-Oleum 215215 Stops Rust Rust Reformer Rust Reformer 10.25-Ounce Spray
If this page has helped you in any way please consider a donation of any amount (no amount too small) through Paypal to defer the cost of web hosting. Also, please consider "+1'ing" this page. Thank You!