Regrouting Tile
This page will show you how to regrout tile, or in other words, how to do grout restoration. First of all, when regrouting a bathroom shower or doing any grout repair, don't just put the new grout over the old messy grout! You must do grout removal by using some kind of grout removal tool and then replace the grout. If you do not remove the old grout you are not really solving the problem which is the underlying rot. Make sure you buy the right color grout before you start, and for small spaces between tiles you want unsanded grout (sanded grout is for larger spaces between tiles.)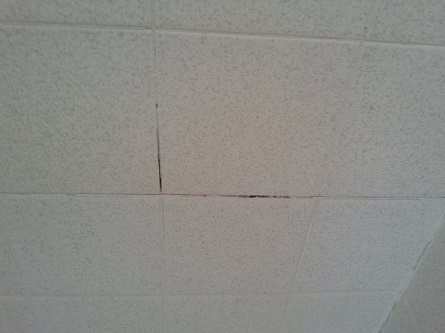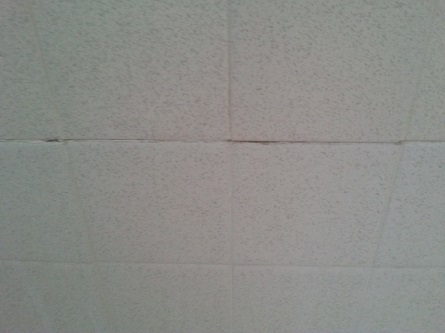 It is a great idea to wear knee pads in this situation (you can thank me later!)
Here are the items you will need for this job, including premixed grout and tile grout sealer: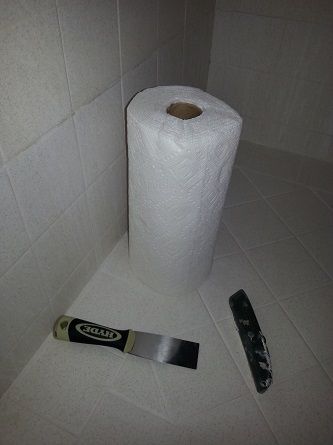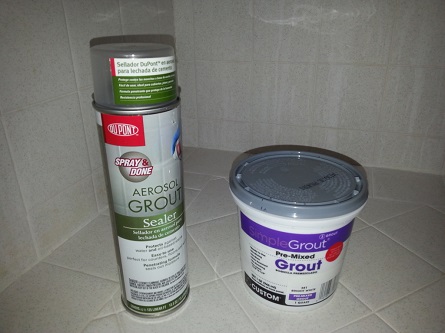 So as far as how to remove grout from tile, I never had very good results with a hand grout saw for this kind of shower grout repair job because of the tiles being so close together, so I just use a utility knife. I know other professional tile people who do this also in this situation. If you have tile with bigger spaces, you should use a hand grout saw like this one: Goldblatt G02505 Grout Saw And Blade With Pro-Grip Handle,
or there are even power tool options for you to chose from.
Begin by just cutting out all of the old grout, being very careful to always cut away from any part of your body with this knife. Just strip it out.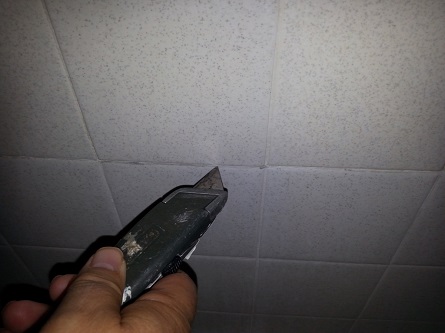 The next step is to use a putty knife to push the premixed grout into the cracks and then wipe the excess off the tiles while pushing the grout even further into the seam.
The putty knife does a good job of pushing the grout into the crack but in the end you really need to use your fingers to smooth it out. Then, since the grout is currently drying on the tile, you should use wet paper towels to clean it off, then you can recycle the towels. The wet paper towel does a great job of blending the grout into the seam.
Next, you should do another wipe down with a wet paper towel after the grout is completely dry and before you seal it. Just make sure you dry the grout off before you seal it with grout sealer, and also dry off the tile.
So the next step is you wait 24 hours for the grout to dry and then spray seal it with a grout sealer product like the one shown on the preceding page. It's easy, you just spray it on and wipe the excess off the tiles, and then spray on again in an hour. You must seal it, don't skip the section!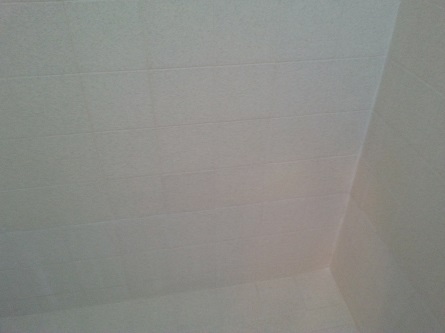 Don't forget to also close up your grout tub package very well so no air can get in, since they force you to buy such a big tub of it! I couldn't find a smaller one, anyway. You are done!
I recommend using a premixed grout product like the one below:
Savogran 12860 Ready-To-Use Tile Grout 8 Fl. Oz
If this page has helped you in any way please consider a donation of any amount (no amount too small) through Paypal to defer the cost of web hosting. Also, please consider "+1'ing" this page. Thank You!