Scraping, Sanding, Priming and Painting Old Wood -part 2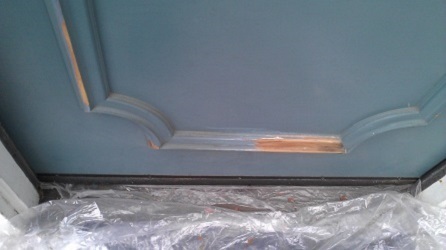 The first thing to do when painting old wood is use a paint removal tool such as a paint scraper or putty knife to scrape all the loose paint off of the wood. Wear a mask when doing this. You just want to scrape the paint until you hit the patches of it that stick and you can't scrape it off anymore. Next you want to sand the wood. Wearing a mask very important at this stage as well.
Use medium grade sandpaper to sand the wood to make the edges of the remaining paint as flush as possible with the bare wood. Not too heavy a grade of sandpaper or the scratches it makes will be noticeable, and not too light that it doesn't make the left-over paint blend into the raw wood.
If this page has helped you in any way please consider a donation of any amount (no amount too small) through Paypal to defer the cost of web hosting. Also, please consider "+1'ing" this page. Thank You!